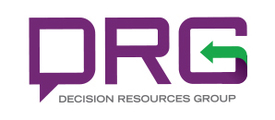 About Decision Resources Group
Decision Resources Group offers best-in-class, high-value data, analytics and insights products and services to the healthcare industry, delivered by more than 900 employees across 14 global locations. DRG provides the pharmaceutical, biotech, medical device, financial services and payer industries with the tools, insights and advice they need to compete and thrive in an increasingly complex and value-based marketplace.
We're rapidly growing - both organically and also through an aggressive acquisition strategy. With immense growth comes opportunity for you to grow your own individual career while learning from some of the health care industry's top experts.
We're looking to add top talent to our team. If you're interested in joining our team of go-to insights providers, consultants, and other vital team members, please apply below.
CONTACT INFORMATION FOR STAFFING AGENCIES: Thank you for your interest in supporting DRG's hiring efforts. We are presently consolidating our staffing agency vendor list and we are not accepting any new vendors.